Class of 1966 Gift Projects
---
GIFT REPORTS 2020 •
WHAT WE DID - AND DO - TOGETHER

---
Our Class Reunion Gifts have each been chosen to support a university priority and to enhance the Cornell undergraduate experience in a critical and creative way.
'66 beebe beach (25th Reunion Gift) When Beebe Lake was being dredged in the early 1990s, our class gift funded the use of the dredged material to create a recreational area on the north shore of the lake. Initially covered in grass and abundant with flowers, the area has been designated by Cornell Botanic Gardens gradually to become a natural partially-wooded habitat. It remains easily accessible to North Campus residents as a place for casual walks – a refuge from the stress of courses, exams, and grades. The 1991 circle of young sycamores has grown to a grove of soaring trees, not far from the rock and plaque that welcome visitors and commemorate our Class Gift.
Class of 1966 Ezra Scholarship (35th Reunion Gift)
Our Cornell Class of 1966 Ezra Scholarship was established as part of the University's campaign to increase its financial aid and "need blind" program, to ensure Ezra's founding vision that Cornell be accessible to "Any Person." Each year, Cornell selects an undergraduate who needs scholarship assistance and who embodies involvement in projects and programs beyond the classroom. One goal of our scholarship is to ensure that the Class develops a personal relationship with each recipient beyond the monetary award. We have reached out to present and past '66 scholars to learn more about their time on the Hill and where their Cornell education and dreams have taken them.
READ MORE about Destiny Smith, our current '66 Student Scholar!
Becker House Dean's Fund (40th Reunion Gift) Becker House, one of five residential houses built to create an Upper Class West Campus Community where the U-Halls once stood, is named for history professor Carl Becker whose characterization of the University as providing "Freedom with Responsibility" has become Cornell's "second motto." This Fund enables the resident House Dean/Professor to offer programs and services that enrich the undergraduate experience for students living there: faculty and staff guest speakers; speakers from outside the Cornell community; activities organized by the House's Resident Advisors and Student Council; and trips to places in and around Ithaca, and even New York City. READ MORE about our class's strong and lasting relationship with Becker House.
AFF: Annual Fund First" (45th Reunion Gift) This Class Gift addressed the University's need to expand its Annual Fund, which provides current use dollars, offering flexibility to react to unseen needs, take advantage of new opportunities, support a program or a student, close a gap, make possible a faculty hire, etc. It enables the University to address situations each year that the annual budget would not have foreseen. In supporting the drive to triple Cornell's Annual Fund, '66 classmates were encouraged to follow "Your Passion + Plus": "Each Year, Every Year, before making a gift to one's passion, include a gift to the Annual Fund First." That Spring, the percentage of '66 classmates supporting the Annual Fund became the highest of any Cornell class.
"ThrivingRED" West Campus Residential House Programming (50th Reunion Gift) "ThrivingRED" supports Sophomores and Juniors living in the West Campus Program Houses through programs and activities in their residential houses that develop skills to cope with stress (both academic and personal), to increase resilience, and to learn lifelong skills not simply to survive, but to thrive. The House Deans' Fund provides the resident deans in all five houses with financial support for them to work, both separately and together as student needs may dictate, to bring services from Cornell Health as well as programs and activities from other campus organizations to their students right where they live.
READ MORE about the Wellness on West (WOW) program, made possible by our ThrivingRED gift.
Cornell Class of 1966 Thriving Red Fund:
Book Value, as of Mar. 31, 2020:$101,710
Market Value, as of Mar. 31, 2020: $98,321.
A Special Note Each December, the class officers, in memory of classmates who have passed away that year, make a donation from our class treasury to one or more of our Class Projects, increasing the value of each endowed fund. Your faithful support of the class by paying your class dues each year enables the class treasury to remain strong and able to support these gifts.
---
Cornell Class of 1966 Ezra Scholarship 35th Reunion Class Gift:
Book Value, as of Mar. 31, 2020:$62,622
Market Value, as of Mar. 31, 2020: $64,908
Cornell Class of 1966 Becker House Dean's Fund for Programming:
Market Value: $226,591, as of Mar. 31, 2020.
Book Value, as of Mar. 31, 2020: $232,142
Support Provided 2019: $9,645
Cornell Class of 1966 "ThrivingRED" West Campus Residential Houses supporting student wellness in the middle undergraduate years:
50th Reunion Class Gift Market Value,as of Mar. 31, 2020: $98,321
Support Provided 2019: $4,516
Market Values as of September 30, 2019
NOTE: $20,000 was provided to ThrivingRED in its first year to jumpstart Programming.
---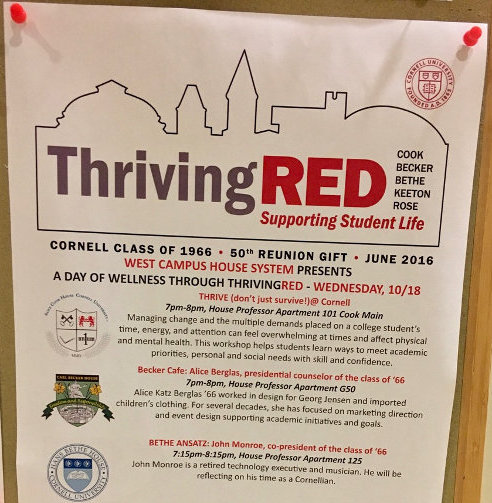 Poster announcing Thriving RED presentations by class officers John Monroe and Alice Berglas
Thriving RED:
Our 50th Reunion Class Gift
Supporting Student Wellness
"THRIVING RED"will provide West Campus Sophomores and Juniors with funding for resources - bringing a myriad of programs and activities to 1800 students EXACTLY WHERE THEY LIVE.
It establishes a House Deans' Fund for all five Deans to work collaborativelv. to draw on the services of Gannett and upon programs already existing on campus.
To learn more, click here!
An important goal of our 35th Reunion "Cornell Class of 1966 Ezra Scholarship" is to ensure that the Class creates a personal relationship with each recipient beyond simply the monetary award. With renewed commitment, we are reaching out to present and past '66 scholars to learn more about their time on the Hill and where their Cornell educations and dreams have taken them.
---
Current Student Recipient:
Destiny Smith '24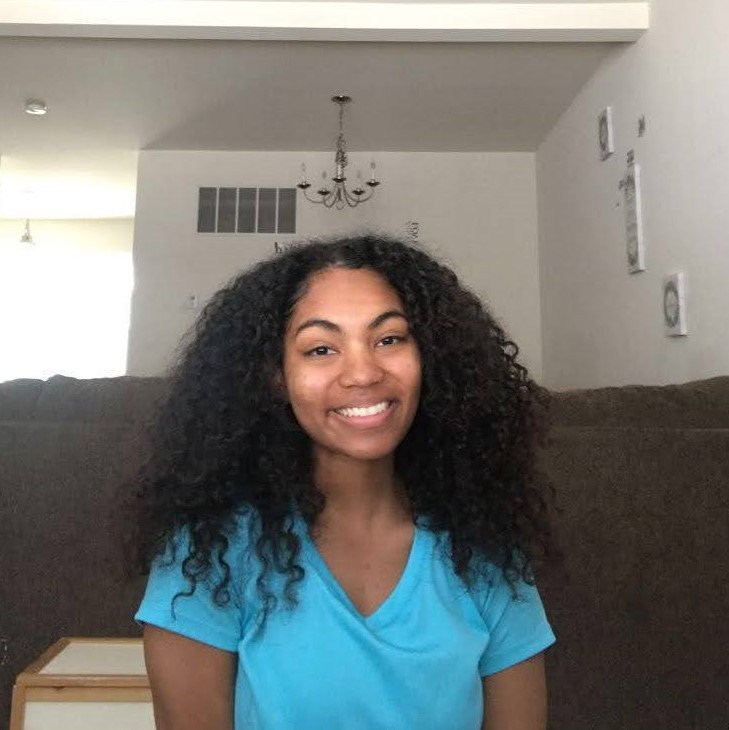 Here is Destiny's most recent report to our class:
October 2020
Dear Class of 1966,
Hello!My name is Destiny Smith and as a recipient of the Class of 1966 Scholarship, l want to personally thank you for the role you have played in making it possible for me to attend Cornell. As a part of expressing my gratitude, I think it would be helpful to have some context so I wanted to share a bit about myself. I also suspect you will be interested in knowing the kinds of students and dreams your donations support.
A bit about myself: I am from Wilmington, Delaware. I have three younger siblings, two sisters and a brother who all follow me closely in age-- 17, 15, and 14 years old. I am hoping they will follow me in attending college as well, maybe even looking to apply to Cornell. I am a first-generation college student, so going to college is a huge achievement in my family. It has been a dream of mine since I was a chiId and in recent years, it has become a real possibility to actually graduate from a university . From first spending a summer at Cornell through a program I applied for, to visiting in the fall of last year, campus has always felt like a safe place built around community traditions and a shared love of leaming.
Additionally, the fact that I am able to attend this prestigious university without worrying about its affordability, even after already gaining acceptance, was news l was extremely grateful to receive. I hope that with the goals I want to achieve, I also do justice to your generosity.
I was selected to be a Kessler Presidential Scholar, an initiative started at Cornell just under two years ago meant to support first-gen and low-income students with demonstrated academic excellence, as well as demonstrated potential for future excellence. I'm enrolled in the College of Arts and Science and plan to study Anthropology and Biology and Society, and additional courses outside of those major requirements to provide a substantial foundation for further schooling and/or a career in forensic science. Establishment in this career is a long-term goal of mine. One relatively short-term goal is to study abroad in at least one place during college. \Vhile these are potential areas of study, I intend to explore topics that span linguistics, cultural studies, chemistry, and whatever else interests me. Such is the beauty of being in the College of Arts and Sciencesl
Some other enriching learning experiences I engage in come in the form of employment. While in New York for school, I work in food service at a convenience store and while at home I work part-time as a Dietary Aid at a nursing borne. Both of these, I think, add to my college experience and could be useful later in life as well .
I hope this gives you a decent picture of how much I truly appreciate your part in my education. Thank you so much for supporting me on this journey! Feel free to write back or ask for updates along the way. Please feel free to reach out to me at das627@cornell.edu or by mail at High Rise 5, Cornell University, Ithaca, NY 14850. Again, thank you immensely .
Sincerely, Destiny Smith
For more information on scholarships and other gifts, please contact:
Janine M. Ross
Associate Director of Donor Relations
Cornell University
130 E. Seneca Street, Suite 400
Ithaca, NY 14850
Phone: 607.254.6142
Email:
jmh265@cornell.edu
---
1966 Becker House Dean's Fund
Book value as of December 31, 2018: $231,892
Market Value as of December 31, 2018: $235,408
Payout for Fiscal year 2018: $10,937
To learn more about Becker House, visit:
http://cornellclassof66.org/Becker/Becker.htm
Also, visit Becker House's Facebook page at:
https://www.facebook.com/groups/383959171638625/
---
And, of course, '66 beebe beach continues to welcome undergraduates and alumni as a glorious respite from the hectic life that is Cornell. Indeed, together, we have made a difference. Wonderfully so!
WHERE DOES YOUR CORNELL ANNUAL FUND GIFT GO?
54% to faculty and Program Support
28% to Student Financial Aid
9% to Special Inititatives and Projects
9% to Campus and Facilities Improvements
Your gift helps Cornell advance its mission of teaching, research, and public service, and prepares our students to become tomorrow's leaders. Gifts to Cornell are tax-deductible to the full extent of the Internal Revenue Code.
You can make a gift to Cornell online: Click here.
---
Cornell University Planned Giving
Gifts That Pay You Income
Do you want to support Cornell, but worry about having enough income for yourself and your loved ones? Life-income gifts such as gift annuities and charitable remainder trusts can provide donors with an income stream, significant tax savings, and the satisfaction of providing Cornell University with vital, long-term resources.
The creation of a life-income gift benefits both the giver and the receiver, a "win-win" situation. The following life-income gifts are available, and one may be right for you.
To learn more, click here:
Cornell University Planned Giving
---
---