Class of 1966 Gift Projects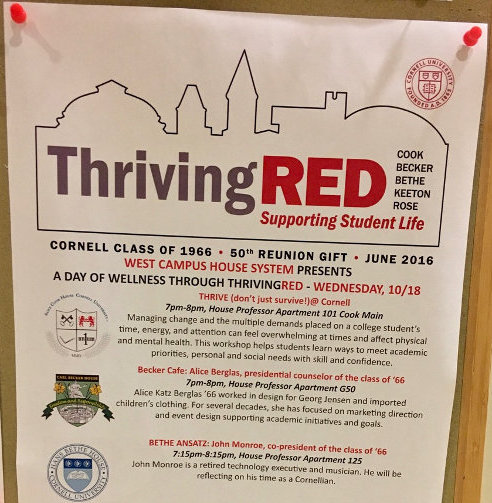 Poster announcing Thriving RED presentations by class officers John Monroe and Alice Berglas
Thriving RED:
Our 50th Reunion Class Gift
Supporting Student Wellness
"THRIVING RED" will provide West Campus Sophomores and Juniors with funding for resources - bringing a myriad of programs and activities to 1800 students EXACTLY WHERE THEY LIVE.
It establishes a House Deans' Fund for all five Deans to work collaborativelv. to draw on the services of Gannett and upon programs already existing on campus.
To learn more, click here!
An important goal of our 35th Reunion "Cornell Class of 1966 Ezra Scholarship" is to ensure that the Class creates a personal relationship with each recipient beyond simply the monetary award. With renewed commitment, we are reaching out to present and past '66 scholars to learn more about their time on the Hill and where their Cornell educations and dreams have taken them.
---
Class of 1966 Gift Projects

Book value as of December 31, 2016: $61,872
Payout for Fiscal year 2017: $3,312
---
Class of '66 Scholarship
Current Student recipient:
Kevin Arias '20
Kevin is a freshman in the College of Arts and Sciences, and has not yet declared a major.
For More Information, Please Contact:
Janine M. Ross
Associate Director of Donor Relations
Cornell University
130 E. Seneca Street, Suite 400
Ithaca, NY 14850
Phone: 607.254.6142
Email:
jmr265@cornell.edu
---
1966 Becker House Dean's Fund
Book value as of December 31, 2016: $231,392
Payout for Fiscal year 2017: $11,655
To learn more about Becker House, visit:
http://cornellclassof66.org/Becker/Becker.htm
Also, visit Becker House's Facebook page at:
https://www.facebook.com/groups/383959171638625/
---
And, of course, '66 beebe beach continues to welcome undergraduates and alumni as a glorious respite from the hectic life that is Cornell. Indeed, together, we have made a difference. Wonderfully so!
---
WHERE DOES YOUR CORNELL ANNUAL FUND GIFT GO?
54% to faculty and Program Support
28% to Student Financial Aid
9% to Special Inititatives and Projects
9% to Campus and Facilities Improvements
Your gift helps Cornell advance its mission of teaching, research, and public service, and prepares our students to become tomorrow's leaders. Gifts to Cornell are tax-deductible to the full extent of the Internal Revenue Code.
You can make a gift to Cornell online: Click here.
---
Cornell University Planned Giving
Gifts That Pay You Income
Do you want to support Cornell, but worry about having enough income for yourself and your loved ones? Life-income gifts such as gift annuities and charitable remainder trusts can provide donors with an income stream, significant tax savings, and the satisfaction of providing Cornell University with vital, long-term resources.
The creation of a life-income gift benefits both the giver and the receiver, a "win-win" situation. The following life-income gifts are available, and one may be right for you.
To learn more, click here:
Cornell University Planned Giving
---
---