Cornell Class of 1966
---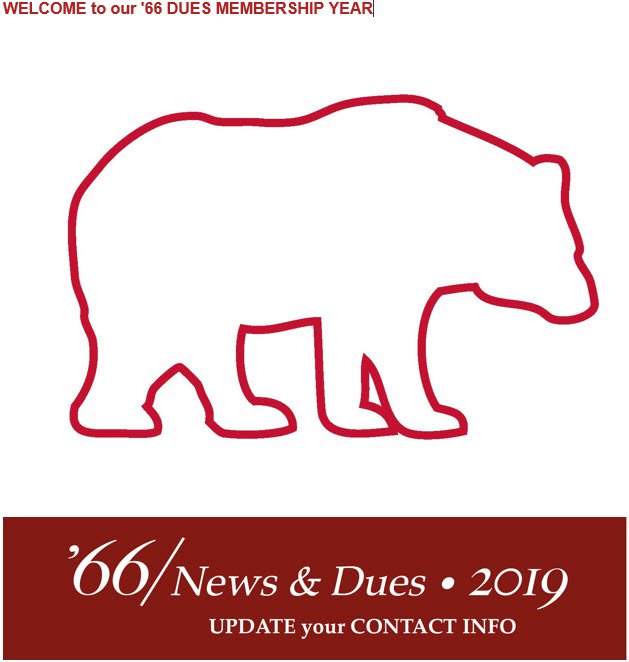 Dear '66 Classmates,
It's January, and that means it's time to pay your 2019-20 Class of '66 dues! We are writing to you as your class presidents to wish you all the best in this new year, and to ask for your annual support of our class treasury - and to share how paying dues benefits our class and Cornell.
Why pay Annual Class Dues?

Dues keep our (50+ year!) classmate conversations going.
Our class treasury supports class communications, gifts to Cornell, reunions (we are now half-way to our 55th!), and short-term projects of interest to the class.
The dues you pay now support 2019-2020.
Some Facts about Class Dues
Dues support the Class of 1966 (They are not gifts to Cornell University).
Dues include a discounted subscription to the award-winning Cornell Alumni Magazine.
Additional contributions - "Diamond Bear" - beyond dues strengthen the Class treasury.
Inputs from classmates help class officers make decisions regarding uses of class funds.
What's the Next Step?
See new easy Options below this letter.
Watch for news about classmates and class events on Facebook (Cornell Class of 1966), our website (cornellclassof66.org), Cornell Alumni Magazine, your email inbox and ... your real in-box!
Thanks for your support of the Cornell Class of '66.
All the best for a terrific 2019!
...Rolf and John
DUES YEAR: July 1, 2019 to June 30, 2020
$ 65 Individual, with Magazine
$ 75 Couples, with Magazine
$ 35 Individual, NO Magazine.
Please Consider:
66 DIAMOND BEAR FUND
Your Diamond Bear "Additional Contribution" - in ANY amount - ensures our strong Class Treasury.
INFO YOU NEED:
Your two Cornell ID #'s:
Payment Options:
To pay dues online:
Just Click Here
Prefer to send by regular mail?
Download and print our dues card here
or
Call: 607-255-3021
Questions? Moved? New Email? Update you contact info:
Contact Alice or Marie at cornellclassof66@gmail.com
Share some news, with our class correspondents - Sue, Pete and Deanne: cornellclassof1966@gmail.com
Or to mail your news, download our news form Here.
NEWS in "SIXTY-SIX SECONDS"

Cornell will construct new student housing/dining on North Campus (past Donlon) with 2000 new beds by 2022. For the first time, Cornell will be able to house all Freshmen & Sophomores "on campus" - bringing the university closer to matching the abilities of peer universities - increasing Cornell community life as well. (Ironically, Ezra never envisioned dorm life at all: he believed students should live and learn in town by interacting with Ithacans.)
THANK YOU
this year, every year, from the Class of 1966 Leadership Team
Cornell University
Division of Alumni Affairs and Development
130 E. Seneca St., Suite 400
Ithaca, New York 14850-4353
---
---
Ever wonder what happens to your donations
to our class gift projects?

Click Here!
---
Looking for a classmate?
Click here and check our

...and send a quick email!
---
Moved recently?
Update your address online at:
http://alumni.cornell.edu/services/update-info.cfm
---
---
FACEBOOK SECURITY
As many of you know, Facebook has been having major security problems recently. According to AARP Bulletin (May, 2018), countless Facebook members have threatened to dump the social network after it was disclosed that a political consulting firm improperly snagged profile information from millions of users. In congressional testimony in April, CEO Mark Zuckerberg vowed to protect Facebook users, but until changes are made, here's how to better protect yourself:
Run the privacy checkup:
Click on the question-mark icon at the top of your Facebook page and select Privacy Checkup. Make sure only your friends can see your posts.
Check your profile settings. Choose "Only Me" or "Friends" for everything. Do not choose "Public" for settings.
Avoid Facebook games and apps:
Many games and apps on Facebook require your name, your email address and the names of your friends. Avoid those. If you're already using these apps and games, go to your Facebook Apps page. Click on the X next to any apps you want to remove.
Tighten other privacy settings:
Go to your Facebook Privacy Settings and Tools page. Make sure only friends can see your posts.
Choose "Only Me" or "Friends" to designate who can see your friends list, email address and phone number. Be sure that no search engines outside of Facebook can link to your profile.
Control ads and advertisers. You can stop getting ads generated by tracking your interests and activities.
Go to your Ad settings section. Turn off the options for "Ads based on your use of websites and apps" and "Ads on apps and websites off of the Facebook Companies."
---
Site Updated: Jan. 17, 2019