Cornell Class of 1966
---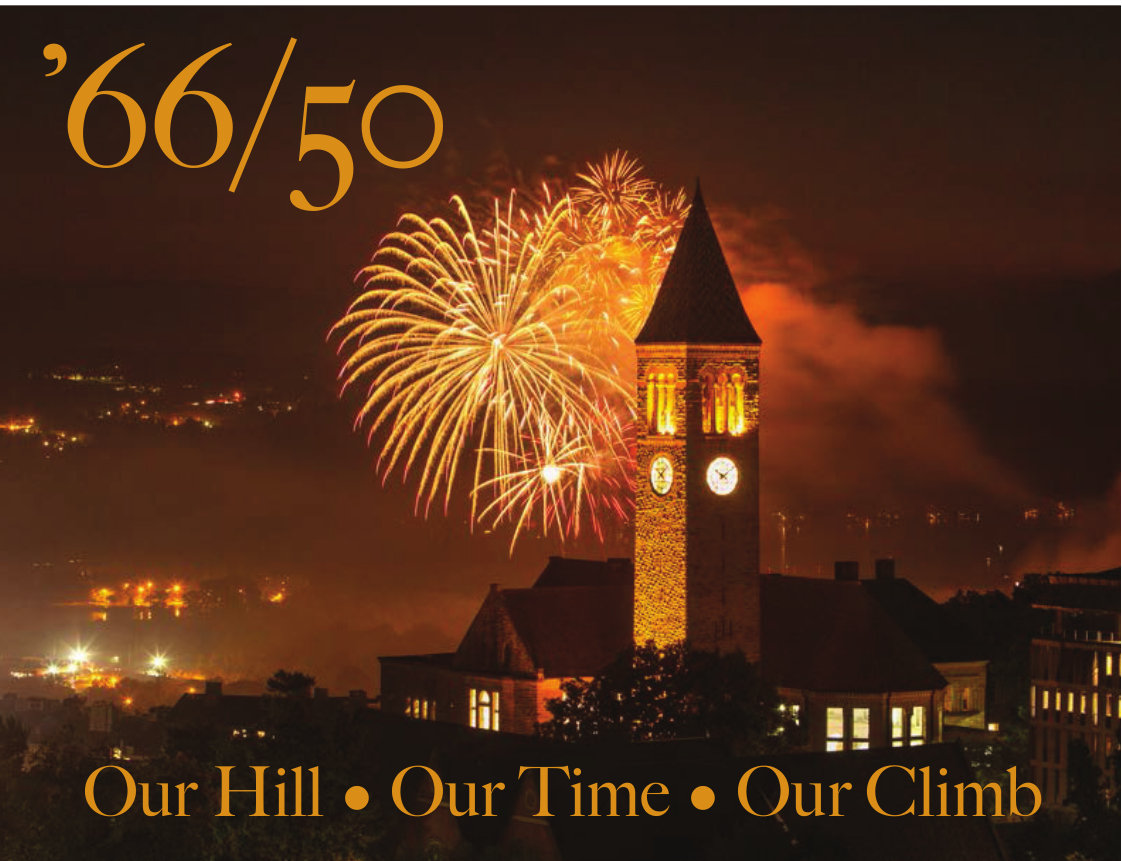 ---
Click Here to watch our official reunion video!
Courtesy of Susan Stregack
---
The Sy Katz '31 Parade
And CORNELL v. COLUMBIA FOOTBALL
Saturday, November 12, 2016
Show your big red pride in the big apple for a day of fun filled Cornell events!
The Shortest Parade with the Longest History in New York City When Cornell Football plays Columbia on our rival's turf, Cornellians take to the streets of New York!
Sy Katz '31, an avid supporter of all things Cornell, fell in love with the Big Red Band in the 1970s. He decided that Cornell's band needed its own parade. With the help of friends at the Cornell Club, he managed to get a police permit to march one city block. Over the years, the tradition has taken on a life of its own, but the mission remains the same: to give the band a time to shine.
Join Alice Katz Berglas '66 and Bob Katz '69 for the 44th year and 23rd marching of the Sy Katz '31 Parade! Make some noise, share some fun, and show the Big Apple what the Big Red is made of!
---
NEW CLASS CO-PRESIDENTS' NOTES:
Greetings!
As the fall term begins, we wanted to introduce ourselves. We are excited to be your co-presidents, and look forward to connecting with '66 classmates and Cornell over the coming years.
Please reach out to either of us with any questions, comments, or suggestions.
Sincerely,
John Monroe & Rolf Frantz
---
STILL A CLASS
Whether you were able to be on campus in June or not, you were definitely part of our 50th Reunion Weekend.
WHAT A CLASS CAN DO
"ThrivingRED"
In the year and a half since The Cornell Class of 1966 announced that its 50th Reunion gift would support the well-being and resilience of undergraduate students in the middle years, the choice of that gift has come to seem ever more prescient. In wide-ranging media, more and more reports discuss the increasing need and import - across the nation's campuses - to provide services and opportunities, programming, conversations and counseling to support, teach, and enhance the ability of even the most spectacular students not simply to strive - but to thrive.
With gifts of all sizes, our initial $50,000 goal has realized more than $160,000 and is now an Endowment Fund, which will support in perpetuity Sophomores and Juniors who live in Cornell's five new West Campus Residential Houses.
It is a Cornell community that we have come to know well - and call "home" - spending time with students at more than a decade of '66 Becker House Dinners and gatherings for our 40th,45th,and 50th Reunion celebrations.
---
CORNELL HOCKEY!
CORNELL v NEW HAMPSHIRE
at the "THE FROZEN APPLE"
Madison Square Garden
Saturday, November 26, 2016 at 8 pm
---
CLASS OF '66 TIE & SCARF
Did you know?...
...that our 25th Reunion Tie & Scarf became a coveted must-have? That faculty & staff & a few alumni leaders received the handful of extras as gifts when our classmate Bill Blockton created them?
Every Cornell President has received a sel: from President Rhodes through the present. Many of you wore yours with delight & pride

The Tie & Scarf were a limited edition .

If you are finding yours (or your spouse's) now tucked away in a drawer/closet not worn, please know we would love to have yours back lo give as gifts to new faculty & young alumni le

Handing down Bill's gift to special faculty & new Cornellian leaders would be terr ific.

If you 1vould like to donate yours, email Alice: alice.berglas@gmail.com
---
YEARBOOK

About a dozen copies remain. If you would like to receive one, email Rolf: nrfrantz@verizon.net
---
Moved recently?
Update your address online at:
http://alumni.cornell.edu/services/update-info.cfm
---
Just click on the FB logo!
---
Site Updated: Oct. 19, 2016