Class of 1966 Gift Projects
---
GIFT REPORTS 2021 •
WHAT WE DID - AND DO - TOGETHER

---
Our Class Reunion Gifts have each been chosen to support a university priority and to enhance the Cornell undergraduate experience in a critical and creative way.
"ThrivingRED" West Campus Residential House Programming (50th Reunion Gift)
"ThrivingRED" supports Sophomores and Juniors living in the West Campus Program Houses through programs and activities in their residential houses that develop skills to cope with stress (both academic and personal), to increase resilience, and to learn lifelong skills not simply to survive, but to thrive. The House Deans' Fund provides the resident deans in all five houses with financial support for them to work, both separately and together as student needs may dictate, to bring services from Cornell Health as well as programs and activities from other campus organizations to their students right where they live.
'66 beebe beach (25th Reunion Gift)
When Beebe Lake was being dredged in the early 1990s, our class gift funded the use of the dredged material to create a recreational area on the north shore of the lake. Initially covered in grass and abundant with flowers, the area has been designated by Cornell Botanic Gardens gradually to become a natural partially-wooded habitat. It remains easily accessible to North Campus residents as a place for casual walks – a refuge from the stress of courses, exams, and grades. The 1991 circle of young sycamores has grown to a grove of soaring trees, not far from the rock and plaque that welcome visitors and commemorate our Class Gift.
Class of 1966 Ezra Scholarship (35th Reunion Gift)
Our Cornell Class of 1966 Ezra Scholarship was established as part of the University's campaign to increase its financial aid and "need blind" program, to ensure Ezra's founding vision that Cornell be accessible to "Any Person." Each year, Cornell selects an undergraduate who needs scholarship assistance and who embodies involvement in projects and programs beyond the classroom. One goal of our scholarship is to ensure that the Class develops a personal relationship with each recipient beyond the monetary award. We have reached out to present and past '66 scholars to learn more about their time on the Hill and where their Cornell education and dreams have taken them.
Becker House Dean's Fund (40th Reunion Gift)
Becker House, one of five residential houses built to create an Upper Class West Campus Community where the U-Halls once stood, is named for history professor Carl Becker whose characterization of the University as providing "Freedom with Responsibility" has become Cornell's "second motto." This Fund enables the resident House Dean/Professor to offer programs and services that enrich the undergraduate experience for students living there: faculty and staff guest speakers; speakers from outside the Cornell community; activities organized by the House's Resident Advisors and Student Council; and trips to places in and around Ithaca, and even New York City. READ MORE about our class's strong and lasting relationship with Becker House.
AFF: Annual Fund First" (45th Reunion Gift)
This Class Gift addressed the University's need to expand its Annual Fund, which provides current use dollars, offering flexibility to react to unseen needs, take advantage of new opportunities, support a program or a student, close a gap, make possible a faculty hire, etc. It enables the University to address situations each year that the annual budget would not have foreseen. In supporting the drive to triple Cornell's Annual Fund, '66 classmates were encouraged to follow "Your Passion + Plus": "Each Year, Every Year, before making a gift to one's passion, include a gift to the Annual Fund First." That Spring, the percentage of '66 classmates supporting the Annual Fund became the highest of any Cornell class.
A Special Note
Each December, the class officers, in memory of classmates who have passed away that year, make a donation from our class treasury to one or more of our Class Projects, increasing the value of each endowed fund. Your faithful support of the class by paying your class dues each year enables the class treasury to remain strong and able to support these gifts.
---
Class of 1966 Scholarship
Book Value: $62,622
Support Provided FY 2022:$2,909
Class of 1966 Becker House Dean's Fund
Book Value: $238,142
Support Provided FY 2021: $10,417
Class of 1966 Thriving Red Fund
Book Value $162,436
Support Provided FY 2021:$4,543
Class of 1966 "ThrivingRED" / The Arts! Fund
55th Reunion Class Gift
GOAL: $55,000
RAISED: $142,590
(over $100,000, thus creating our fourth endowment, a gift in perpetuity)
.
---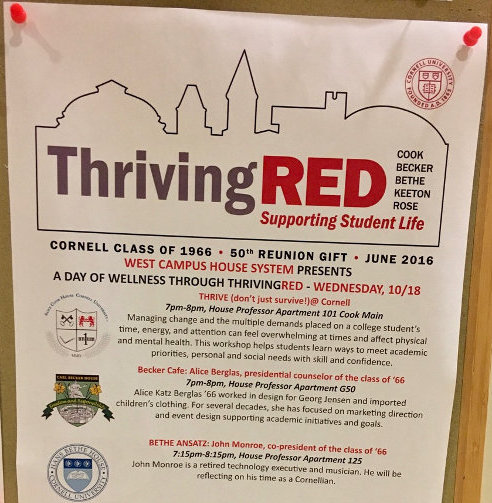 Poster announcing Thriving RED presentations by class officers John Monroe and Alice Berglas
Thriving RED:
Our 50th Reunion Class Gift
Supporting Student Wellness
"THRIVING RED"will provide West Campus Sophomores and Juniors with funding for resources - bringing a myriad of programs and activities to 1800 students EXACTLY WHERE THEY LIVE.
It establishes a House Deans' Fund for all five Deans to work collaborativelv. to draw on the services of Gannett and upon programs already existing on campus.
An important goal of our 35th Reunion "Cornell Class of 1966 Ezra Scholarship" is to ensure that the Class creates a personal relationship with each recipient beyond simply the monetary award. With renewed commitment, we are reaching out to present and past '66 scholars to learn more about their time on the Hill and where their Cornell educations and dreams have taken them.
---
Current Student Recipient:
Destiny Smith '24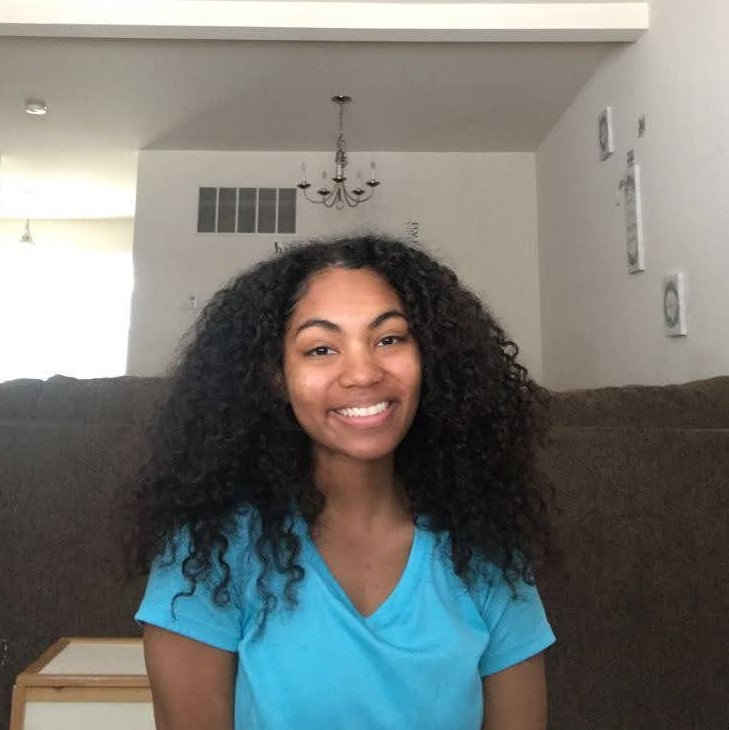 The Cornell Class of 1966 Ezra Scholarship is awarded annually to a deserving student. This year's recipient Destiny Smith '24 Arts & Sciences. Here is Destiny's most recent report to our class:
To the Class of I966,
I hope this letter finds you well. My name is Destiny Smith and I'm a sophomore in the College of Arts and Sciences. I was a recipient of the Class of 1966 scholarship last year and got to learn a bit about John and Rolf following my letter. Important snippets of my first letter are:

•l'm the oldest child of 4, from Wilmington, DE.
•I am a first-generation college student.
•I am interested in a little of everything which is why I absolutely LOVE Cornell's "any person, any study" motto.
Since writing to you one year ago, I have made some important decisions about my academic plans and also gotten more involved in extracurricular and social life on campus. I've decided to major in biological sciences with a concentration in neurobiology and behavior. I am absolutely loving my Intro to Behavior class, Intro to linguistics class, and Spanish for Health Professionals courses this semester (it's a three-way tie for my favorite class). I believe this major and concentration will allow me to take interdisciplinary courses, mix in some interesting classes, and also make fulfilling and more practical my pre-med requirements. I still have a goal of having a career in forensic science, and medical school is a necessity for the types of programs I will apply to.
This year, I am a mentor in the Kessler Presidential Scholar Program. l'm enjoying getting to know my rnentee and working alongside other mentors as we pick up leadership and professional skills. For extracurriculars, I've been exploring new things like finance and the arts as well as participating in organized volleyball whenever I can. l'm working at a library on campus now instead of at Cornell Dining. This job fits my schedule and living situation better so l'm glad it worked out. I still work at the same nursing home whenever I go home.
As you can see, things are even more exciting on campus this year. I am so grateful to be able to enjoy a nearly-normal college year and thanks to your generosity, I am able to do so without much financial stress. Thank you so much for your continued support this year!
If you wish to write back or ask for updates along the way, feel free to email me at:
das627@comell.edu. Thank you, again :)
For more information on scholarships and other gifts, please contact:
Janine M. Ross
Associate Director of Donor Relations
Cornell University
130 E. Seneca Street, Suite 400
Ithaca, NY 14850
Phone: 607.254.6142
Email:
jmh265@cornell.edu
---
1966 Becker House Dean's Fund
Book value: $238,142
Support Provided FY 2021: $10,417
To learn more about Becker House, visit:
http://cornellclassof66.org/Becker/Becker.htm
Also, visit Becker House's Facebook page at:
https://www.facebook.com/groups/383959171638625/
---
And, of course, '66 beebe beach continues to welcome undergraduates and alumni as a glorious respite from the hectic life that is Cornell. Indeed, together, we have made a difference. Wonderfully so!
WHERE DOES YOUR CORNELL ANNUAL FUND GIFT GO?
54% to faculty and Program Support
28% to Student Financial Aid
9% to Special Inititatives and Projects
9% to Campus and Facilities Improvements
Your gift helps Cornell advance its mission of teaching, research, and public service, and prepares our students to become tomorrow's leaders. Gifts to Cornell are tax-deductible to the full extent of the Internal Revenue Code.
You can make a gift to Cornell online: Click here.
---
Cornell University Planned Giving
Gifts That Pay You Income
Do you want to support Cornell, but worry about having enough income for yourself and your loved ones? Life-income gifts such as gift annuities and charitable remainder trusts can provide donors with an income stream, significant tax savings, and the satisfaction of providing Cornell University with vital, long-term resources.
The creation of a life-income gift benefits both the giver and the receiver, a "win-win" situation. The following life-income gifts are available, and one may be right for you.
To learn more, click here:
Cornell University Planned Giving
---
---