Dear '66 Classmates/Friends,
As Class President, I am delighted to share with you the announcement of our 50th Reunion Class Gift. I want to express appreciation to the Class Council's Research Committee for the time it spent identifying a gift that would enhance the undergraduate student experience today and for years to come. .
In conversations with Deans, Directors, Professors, Administrators, Coaches, across the quads, the most critical need repeated, over and over again, has been a gift to address the stress exhibited in so many current Cornell students.
A gift offering life skills they would learn AT Cornell, and would take with them along whatever diverse pathways they follow.
WHY "THRIVING RED"?
As academically talented as they are, the 21st Century presents Cornell students with radically different challenges, new kinds of pressures, and new demands for adaptability. Students control well their virtual worlds, experts in the electronic tasks and relationships they hold in their hands, yet often are thrown by managing their real lives - not yet owning the skills to cope well, morph well, adapt well, to the ever more unpredictable life changes that this new century demands.
Our Class Gift will build on the 10-year relationship that the Class of 1966 has developed with Becker House, pairing President David J. Skorton's commitment to student well-being with a new Class of 1966 gift across all five West Campus Residential Houses.
"THRIVING RED" will provide West Campus Sophomores and Juniors with funding for resources - bringing a myriad of programs and activities to 1800 students EXACTLY WHERE THEY LIVE.
It establishes a House Deans' Fund for all five Deans to work collaborativelv. to draw on the services of Gannett and upon programs already existing on campus.
"Freshman Centers" ease first-year students' transition from home to campus. Job fairs, on-campus recruiting, and graduate/professional school days address needs of Seniors. But Sophomores and juniors looking to seek advice, relieve stress, initiate new directions, or find confidence in their changing academic or personal life courses find very little created FOR THEM - addressing their unique "middle-year" needs.
Coping with family finances that impact staying in school; dealing with physical changes (an athlete finding himself/herself injured); realizing one belongs in a differentCollege but still belongs at Cornell (and expressing that to parents at home); making wise behavioral choices; managing sleep and studies; or studies and a social life: often fall to Sophomores and Juniors to figure out on their own.
All too often, they assume they should know the answers; are embarrassed to ask for help, even where help exists, because they feel they are no longer "new Freshmen." Or they assume the available resources are for those in more dire need. Or they underestimate the deep need they may have.
---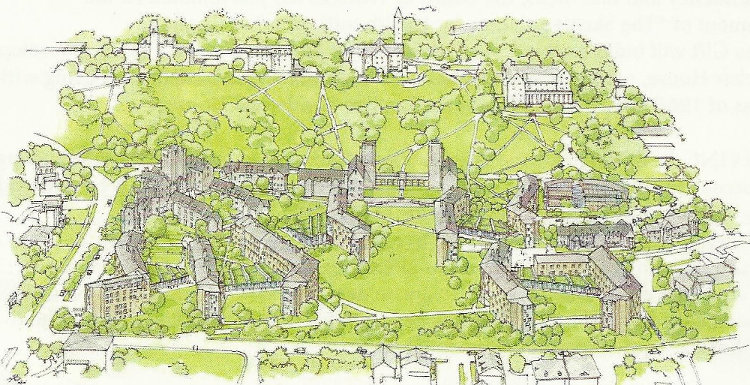 ---
WHY WEST CAMPUS?
"Thriving RED" will provide funds for awide range of programs, structured and informal, over the coming years: interactions around the dinner table with faculty and visiting speakers, around the living units with Grad Fellows; at gatherings In House Deans' apartments. Tapping faculty perspectives; bringing visiting guests to campus; drawing on the professional expertise of Gannett; experiencing shared activities and outings outside the Houses: all are possibilities.
Our 50th Reunion Class Gift can help make that happen.
The "Living/Learning" environment, integral to the West Campus Residential Houses, is a perfect place to begin.
And... As "The Class in The Middle," who better than we. The Class of1966, to address the needs ofCornellians in their middle years?
"FIFTY for FIFTY"
Our goal is to raise at least $50,000 in celebration of our 50th Reunion Year and to present our Class Gift during our 50th Reunion Weekend, June 9-12, 2016. The monies will be allocated over 3-5 years depending on the size of our "Thriving RED" Gift. If the total gift proves large enough, we would be able establish an endowment.
Gifts POSTMARKED AFTER JULY 1, 2015 will count toward our 50th Reunion totals. No other Cornell Class has done what we have done: embracing a living unit, Becker House, as its ow. With this new Fund, we extend our virtual fingerprint to a whole hand, taking all five Residential Houses and the vibrant, dynamic, West Campus Residential Community "as '66's own."
Join us!
We warmly thank you already,
Alice Katz Berglas
Class President/2011-2016
Ralph Janis • Bruce Mansdorf • John Monroe
50th Reunion Class Gift Committee
& The Class of 1966 Officers & Class Council